On September 19, the solar tower of Aksay Huidong new energy CSP + PV hybrid pilot project was constructed to the top, laying the foundation for subsequent plant construction.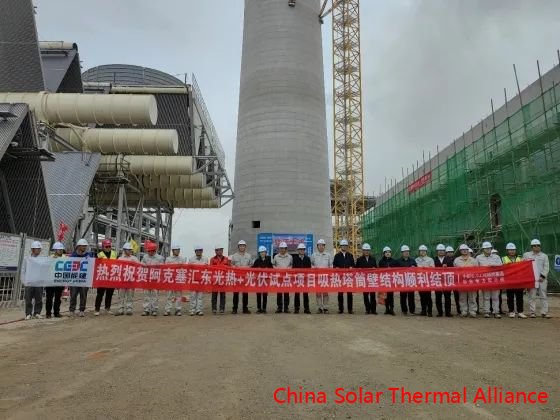 According to CSTA's previous news, Aksay Huidong New energy CSP + PV pilot project is located in Jiuquan City, Gansu Province, with the total installed capacity of 750MW, including 110MW solar tower CSP plant and 640MW solar PV plant.
According to China Railway 11th Bureau Group Co., Ltd, the subcontractor of the solar tower construction, this tower is 180.8m high, with a maximum outside diameter of 24.6m and a minimum outside diameter of 18.1m, which is a hollow thin-wall reinforced concrete structure.
At present, the project is in the peak period of comprehensive construction, the column foundation construction of heliostats in the CSP plant area has been completed, nearly 4000 heliostats has been installed, the structure of the steam turbine building has been capped too. More than 70,000 piles have been built in the PV plant area, and solar panels, inverters and structure supports have been purchased and will be delivered to the site in batches. The civil construction of the electricity convergence station is about to begin.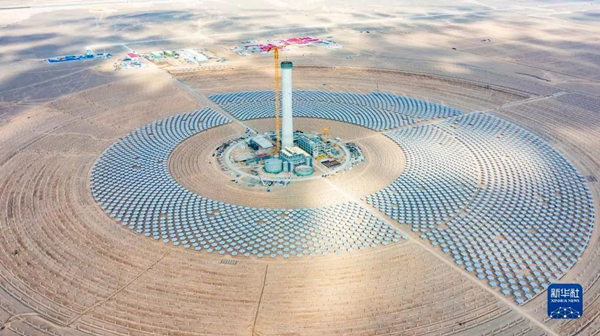 The project is a major project in Gansu Province and one of the demonstration projects of Chinese "desert and Gobi" large-scale wind and solar (PV+CSP) generation base. The project plans to complete all the civil work and most of the installation work by the end of this year, and plans to realize the full capacity of CSP and PV generation by the end of October 2024. It is expected to have an average annual power output of 1.7 billion kWh after operation.