As the largest parabolic trough CSP plant in China and one of the first batch of national CSP demonstration projects, CSNP 100MW/1000MWh Parabolic Trough CSP project have created multiple world records, e.g. for the fastest in molten salt melting, the shortest in plant construction and commissioning, and the first solar thermal project in China at the same latitude to generate full load power. The plant is located in the Urad Middle Banner of Inner Mongolia autonomous region, which has the highest latitude of 41.5°and is designed, constructed, commissioned and operated by China Shipbuilding New Power Co., Ltd., which is one of the company member of China Solar Thermal Alliance.
From April 1st last year to March 31st this year, the power generation from solar field of CSNP 100MW Parabolic Trough CSP plant was about 330GWh, exceeding the design value, and the equivalent full load power generation hours per year led the same projects in the country.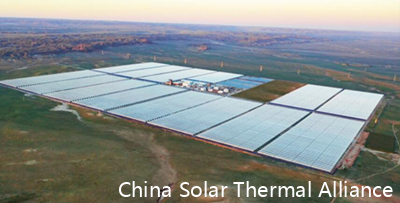 The solar field is consisted of 352 loops, with Royal Tech as the technical supporter and sub-constructor. More than 1.1 million square meters of solar collectors cover the desertified land, effectively reduces the evaporation. The urban circulating water used to clean mirror fields undergoes to the ground, providing protection for vegetation restoration and growth while also maximizing water resource conservation.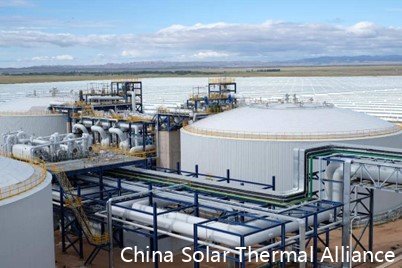 The power plant is expected to save 120,000 tons of standard coal annually, reduce carbon dioxide emissions by 300,000 tons, reduce sulfur oxide emissions by 9,000 tons, and reduce nitrogen oxide emissions by 4,500 tons, equivalent to afforestation of about 6.06million square meters.