Recently, a consortium of Dunhuang Dacheng Shengneng New Energy Technology Co., Ltd. (a subsidiary of Lanzhou Dacheng Technology, DCTC)and Northwest Electric Power Design Institute Co., Ltd. (NWEPDI) of China Power Engineering Consulting Group signed the EPC contract of Yumen Xin' ao 100MWCSP project, which is a partof Yumen Xin'ao700MW PV+CSP+Wind Project. Now the project construction has been fully launched.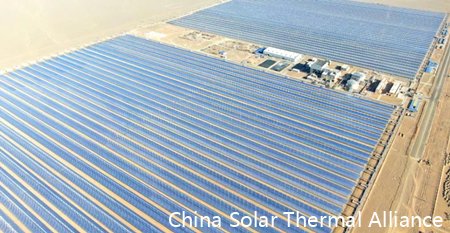 Yumen Xin' ao700MW PV+CSP+Wind demonstration project is one of the first four solar thermal hybrid renewable energy project in Gansu Province, which is located in Huahai Solar Base in Huahai Town, Yumen City, Gansu Province. The 100MW CSP project will adopt the molten salt linear Fresnel CSP technology.
According to the contract, Dacheng Shengneng will be responsible for the construction, supply, installation and commissioning of the solar collection field of the project. The overall project is planned to be completed and connected to the grid by December 2023.
DCTC has successfully built and been operating a 50MW molten salt linear Fresnel CSP plant, which is the first in the world. Since May 2021, the plant has continued to increase the output, had more than 8GWh output in multiple months; the highest daily power generation reached 610.4MWh with only 39 loops operated (about 48.75% of the solar field). The generation in May and August has achieved 85% of the design value, and it has realized the first year generation goal. Nowadays the generation is increasing with the full solar field put into operation.
On June 13, DCTC's Key Technology and Application of Molten Salt Linear Fresnel Solar Collection was evaluated as "internationally leading and advanced" by China Renewable Energy Society. On August 31, 2022, the technology was awarded the 2 ⁿᵈ prize of technological innovation by China Renewable Energy Society (for publicity).