On July 24, 2019, Mrs. Fengli Du, executive vice chairwoman of China Solar Thermal Alliance (CSTA) visited the Luneng Haixi 50MW Tower CSP project under the accompanion of Mr. Wei Peng, the assistant of general manager of As the key project invested by Luneng Group it is located in Haixi of Qinghai New Energy Company of Luneng Group.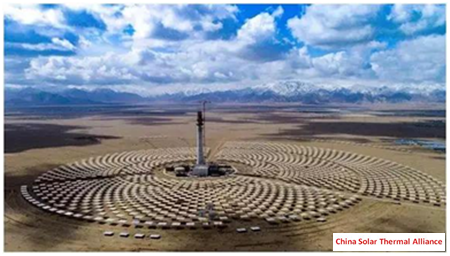 Photo: Luneng Haixi CSP project under construction
This project is invested by Luneng Group, the subsidiary of State Grid. It is located in Golmud city of Haixi of Qinghai Province, covering an area of about 6,400 mu (about 4.267 square kilometer), using tower-type molten salt CSP technology.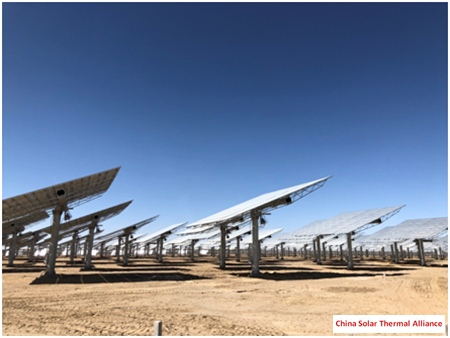 Photo: Heliostats field of Luneng Haixi 50MW Molten Salt Tower plant
It's a composition of Luneng Haixi Golmud Multi-energy Complement Integration Optimization Pilot Project, which consists of 200MW PV, 400MW Wind, 50MW CSP and 50MW energy storage system. The project has 12 hours of heat storage, a total number of 4,400 heliostats (138m² per) covering an area of 610000m². The solar tower has a height of 181.1 meters, of which 147.4 meters are made up of reinforced concrete. It uses high temperature and high pressure reheating condensing steam generator system.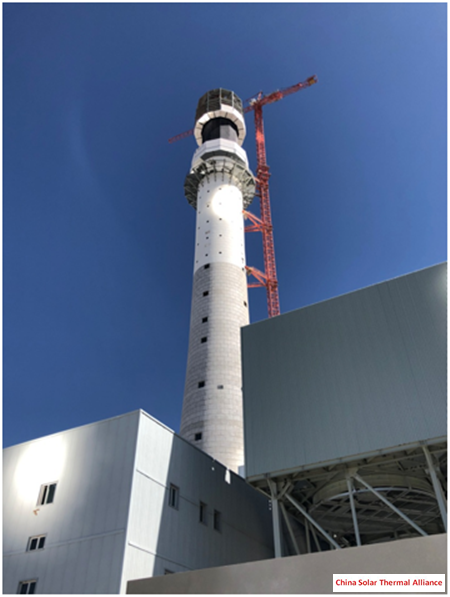 Photo: heliostats focusing on the solar tower
The CSP Project started construction on June 30, 2017, with the EPC as Speco III Electric Power Construction Co., Ltd. Nowadays, the project is under heliostats commissioning and final stage of construction. It is expected to be operational by the end of this year. It might be the 4th CSP plant put into operation in China after CGN Delingha 50MW parabolic trough, Shouhang Dunhuang 100MW solar tower, and SUPCON Delingha 50MW solar tower power plant.