On Dec. 8-9, 2020 International Renewable Energy Heating Technology Conference was held successfully in Baotou city, Inner Mongolia of China, which was organized by China Solar Thermal Alliance (CSTA) and Institute of Electrical Engineering of Chinese Academy of Sciences and co-hosted by Inner Mongolia Sunshine Co., Ltd. About 240 participants attended the conference. Mr. Zhang Yuqing, chairman of the conference and former deputy director of the National Energy Administration, presided over the opening ceremony.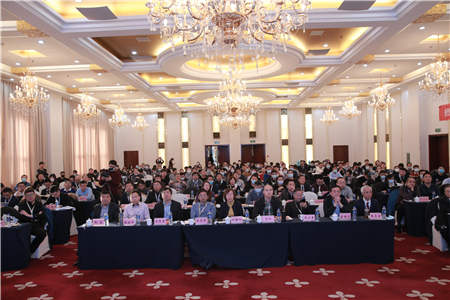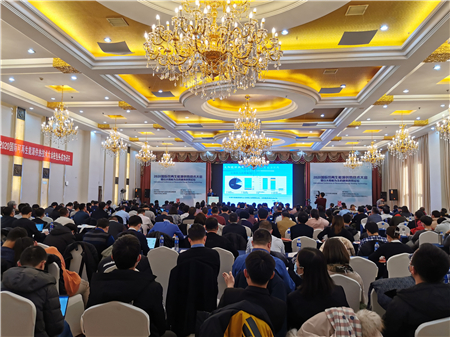 He Yaling, professor of Xi'an Jiaotong University, and Academician of the Chinese Academy of Sciences; Wu Yin, especially invited researcher of the Counsellors' Office of the State Council, former Deputy Director of the National Energy Administration, and vice chairman of China Energy Research Society; Zhou Hongchun, a researcher and former deputy inspector of the Development Research Center of the State Council; Li Deying, Deputy Director of China Building Energy Association and Professor of Beijing University of Architecture and Technology; Dr. Wang Zhifeng, Chairman of the China Solar Thermal Alliance, Researcher of the Institute of Electrical Engineering of the Chinese Academy of Sciences, Professor of the University of Chinese Academy of Sciences; Sun Peijun, Senior Engineer of the National Renewable Energy Research Center; Ji Jie, University of Science and Technology of China; Zhang Yan, President of Inner Mongolia Sunshine Energy Co., Ltd., and General Manager Wang Yu, and other domestic experts, scholars, entrepreneurs and industry representatives from related fields gathered in Baotou city to discuss the development of renewable energy heating technology and industrial future. Professor Klaus Vajen, President of the International Solar Energy Society, participated in the conference via video.
Zhang Yuqing said: The first International Conference on Renewable Energy Heating Technology held in Baotou today has milestone significance. Renewable energy has a wide heating temperature range and is completely zero-carbon, and can provide thermal energy for construction, industrial process and agriculture purposes. Vigorous efforts should be made to apply renewable energy. Scientists and engineering technicians from universities, research institutes, and enterprises gathered in Baotou to discuss a wide range of scientific and technological issues online and offline. This will surely give a great impetus to the development of renewable energy heating technology and cost reduction. I wish the great development of renewable energy cause!
Vice Chairman Wu Yin in the opening speech said that China strives to achieve carbon emission peaks by 2030, and carbon neutrality by 2060. The important declaration points the way froward and provides a blueprint for green and low-carbon development in China. The subsequent work and development of the various industries will be based on carbon emission reduction. He pointed out that energy consumption in buildings will overtake industrial energy consumption, as the experience of foreign countries shows. Globally, about 40% of energy consumption or carbon dioxide emissions occur in the construction industry. Emission reduction in the construction sector will be the top priority. The discussion about renewable energy heating at this conference will play an important role in energy conservation and emission reduction. He spoke highly of the world's first large-scale parabolic trough-type solar heating supply system built by Inner Mongolia Sunshine Energy Co., Ltd. "It has been operating for 5 heating seasons. This is a great job. The combination of the cooling and heating monitoring systems is flexible, and a lot of data and experience have been amassed. Great improvement has been made in the technical and equipment level. This achieved a good demonstration effect. The safe, efficient, clean, and low-carbon characteristics are what we require for the construction of a modern energy system." Regarding the development of the industry, Wu Yin said that first, energy-saving buildings must be explored from many perspectives to meet energy-saving standards and improve energy efficiency. Second, integrate solar energy with multiple energy sources. Third, different complementary energy sources require intelligent control and respective advantages are used to achieve the optimal economy of energy. Fourth, cost-effective, efficient, comfortable and convenient.
Academician He Yaling, as the chairman of the Expert Committee of China Solar Thermal Alliance, expressed congratulations on the opening of the conference and sincere greetings to the participants present at the conference!
She said that according to publicly available data, energy consumption for buildings accounts for about 21% of China's energy consumption, of which energy consumption for heating and cooling accounts for about 22% of building energy consumption; (data in 2018) the average carbon emission intensity for heating in north China was 37.3kgCO₂/㎡. Solar energy is a clean renewable energy. Solar energy coupled with other energy sources for direct heating is a scientifically, technically and economically viable renewable energy heating method. It is a truly clean energy source. This dovetails with the national requirement of "using clean energy as far as possible and making greater efforts to increase the proportion of clean heating". Renewable energy heating will surely provide important technical support towards the goal of "carbon emission peak in 2030 and carbon neutrality by 2060". At the same time, He Yaling pointed out that solar energy is intermittent and unstable. In view of the rigid demand for continuous heating in winter, we face some challenges when applying solar energy to building heating, such as heat collection, heat storage, heating system optimization and matching control. The cost-effectiveness and reliability of the heating system is also the key to technology promotion. Relevant research institutes and enterprises are actively demonstrating and exploring energy storage methods for heating supply, including cross-season district heating. To this end, she called on the scientific research circles, industry, government bodies, as well as experts and business executives present to ensure cooperation among industry, universities and research institutes; carry out updating and iteration in terms of technology, business models, financial services, etc., and tap the potential of solar thermal utilization technology and products; conduct collaborative innovation and development to enhance the ability of solar energy technology innovation, and ensure the healthy and sustainable development of the industry. She hoped that all sectors of society should seize the industry opportunities in the new circumstances, and reshape the solar thermal utilization industry, so that solar energy utilization features higher overall efficiency, more application functions, lower use costs, and higher annual utilization rate. Efforts should be made to develop the solar energy industry according to local conditions and tap the market.
Chairman Wang Zhifeng said: Promoting renewable energy heating in northern China has a significant bearing on the people's well being. All regions are pursing the best renewable energy heating solutions suited to local conditions. In June 2018, Li Zhanshu, a member of the Standing Committee of the Political Bureau of the CPC Central Committee and Chairman of the Standing Committee of the National People's Congress, stressed in the inspection tour of the implementation of the Law on the Prevention and Control of Atmospheric Pollution Air in Baotou that we should take multiple measures to solve the problem of clean heating according to local conditions and use alternative methods such as centralized heating, gas, electricity, and solar thermal methods to reduce the pollution caused by scattered coal burning, and ensure a warm winter for the populace. Baotou city is selected as the venue of the first International Conference on Renewable Energy Heating Technology because the government bodies at all levels in Baotou City adopt innovative thinking on renewable energy heating, and have pioneered the construction of large-scale solar heat collection and heating supply system. The system has been running for 5 heating seasons with a good demonstration effect.
He pointed out that there are few original technologies in China on renewable energy heating, especially solar heating. At the meeting of the National Science and Technology Leading Group held on December 7, 2020, the Premier said that innovation is the top driving force for development. To promote science, technology and innovation, all parties should be guided to focus on basic research and applied basic research, and put emphasis on research on key scientific issues, especially original and game-changing innovations. It is hoped that through communication and mutual encouragement at this conference, scientists and entrepreneurs cooperate to make breakthrough. Attention should also be paid to global cooperation in science and technology in technological development. Global cooperation under the framework of IEA, IRENA, and ISES can rapidly leads to cost reduction. To develop heating technology, it is essential to seek government support, especially support for the initial new technologies.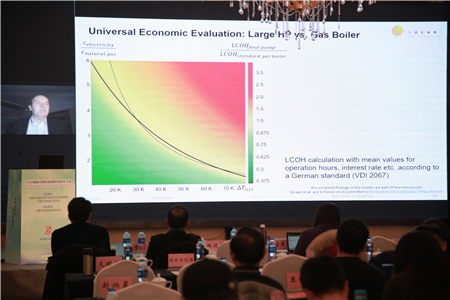 Video by Professor Klaus Vajen, president of the International Solar Energy Society
In the keynote speech session in the morning, researcher Zhou Hongchun, Prof. Li Deying, and Senior Engineer Sun Peijun discussed the development opportunities and challenges in China's clean energy, clean heating, and solar heating, as well as the development prospects based on the current status of China's clean heating sector. In the session of technical reports, Zhang Jili, professor of Dalian University of Technology and Director of the Institute of Building Energy; Dai Yanjun, professor of Shanghai Jiao Tong University, Deputy Director of the Solar Power Generation and Refrigeration Engineering Research Center of the Ministry of Education; Zhao Bin, professor of Changsha University of Science and Technology, former director of Tibet Science and Technology Department's Energy Research Demonstration Center; and Wang Dengjia, Professor of Xi'an University of Architecture and Technology, and Deputy Director of the Center for Solar Energy Building and Environment, delivered keynote speeches entitled respectively "Analysis of the CCHP technology of Enhanced Vapor Injection PVT heat pump and its application prospects", "Research on high-efficiency heating by solar energy reabsorption regenerative heat pump", "R&D and practice of 'Solar Plus' heating system in cold rural areas" and "Special issues of solar heating collection and storage system in Qinghai-Tibet Plateau and countermeasures".
34 oral presentations are made and 15 posters are displayed at the two-day conference. It arranges a visit to the over 70,000 square meter parabolic trough-type solar heating collection and supply system built by Sunshine Energy. Fan Jianhua, a tenured professor of the Technical University of Denmark, as well as world-renowned scholars and experts from Sweden and Austria give online speeches on the prospects and challenges of solar thermal energy in the industrial process, the current status and prospects of European solar central heating technology, and solar concentrator and flat solar panels for district heating and industrial heating.