On Nov. 29, China National Solar Thermal Energy Alliance (hereinafter referred to as the Alliance) held a simple but grand Award Ceremony for the winners of 2018 Outstanding Contribution to Solar Thermal Technology Award in the School of Architecture, Tsinghua University. Mr. Yi Yuechun, chairman of the Alliance and vice-president of China Renewable Energy Engineering Design Institute hosted the award ceremony.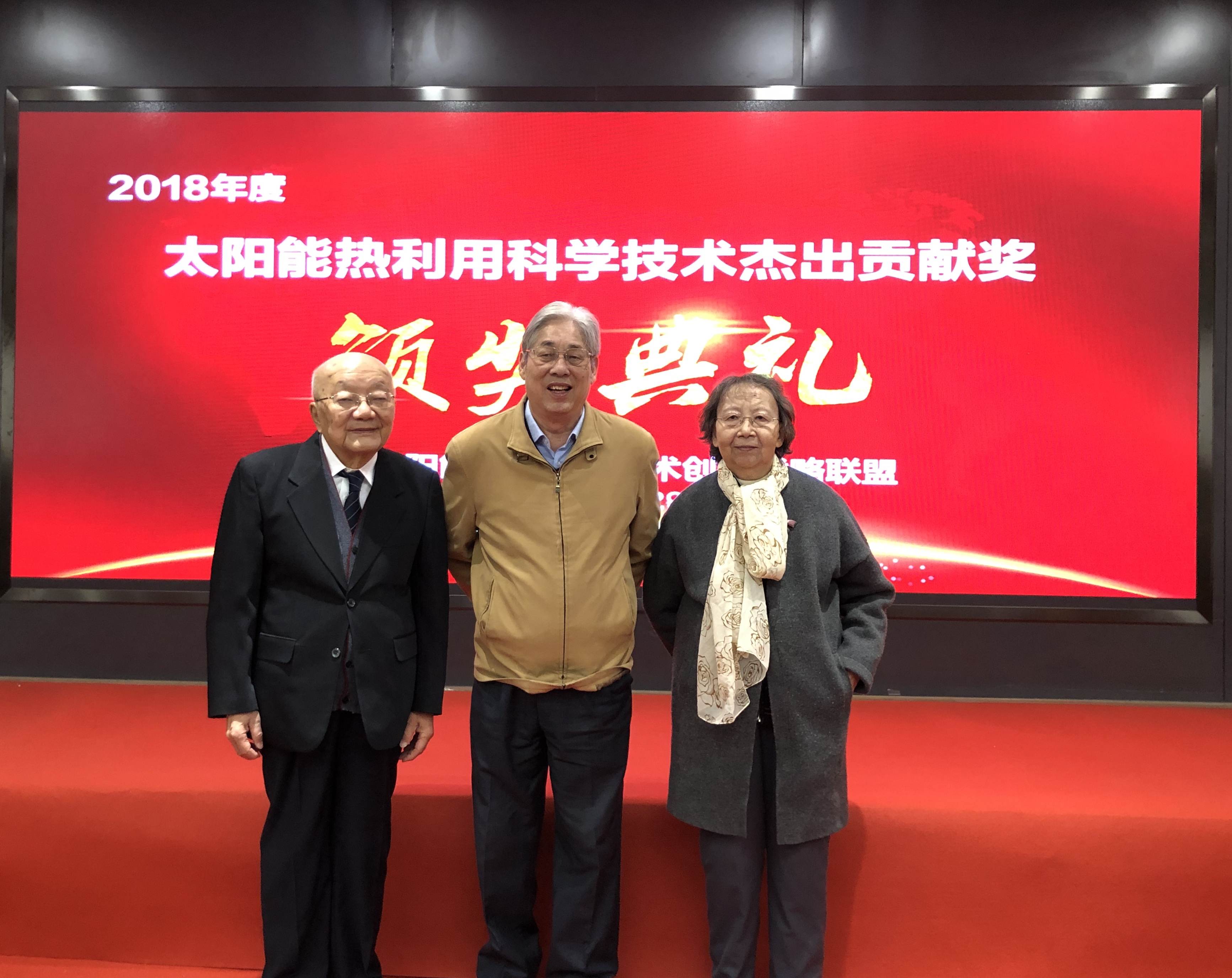 Photo: academician Xu Jianzhong (middle) with the winners
The organizer specially invited academician Xu Jianzhong of the Chinese Academy of Sciences, who is also the chairman of the first and second technical expert committees of the Alliance to award the two winners. One is Mr. Li Shensheng, professor of Department of Physics at Capital Normal University, and the other is Mrs. Li Yuanzhe, professor of Department of Thermal Engineering (now in School of Architecture) at Tsinghua University.
Prof. Zhang Yue, Secretary of the Party Committee of School of Architecture of Tsinghua University, Prof. Zheng Hongfei, Director of Thermal Energy Engineering Institute of Beijing Institute of Technology (graduate student of Mr. Li Shensheng), Mr. Li Xinnan, Secretary General of the China Industry and Technology Innovation Strategic Alliance Liaison Group, Mr. Li Baoshan, Vice Chairman of China Renewable Energy Society, Prof. Wang Zhifeng, Executive Vice Chairman of the Alliance delivered warm speeches separately.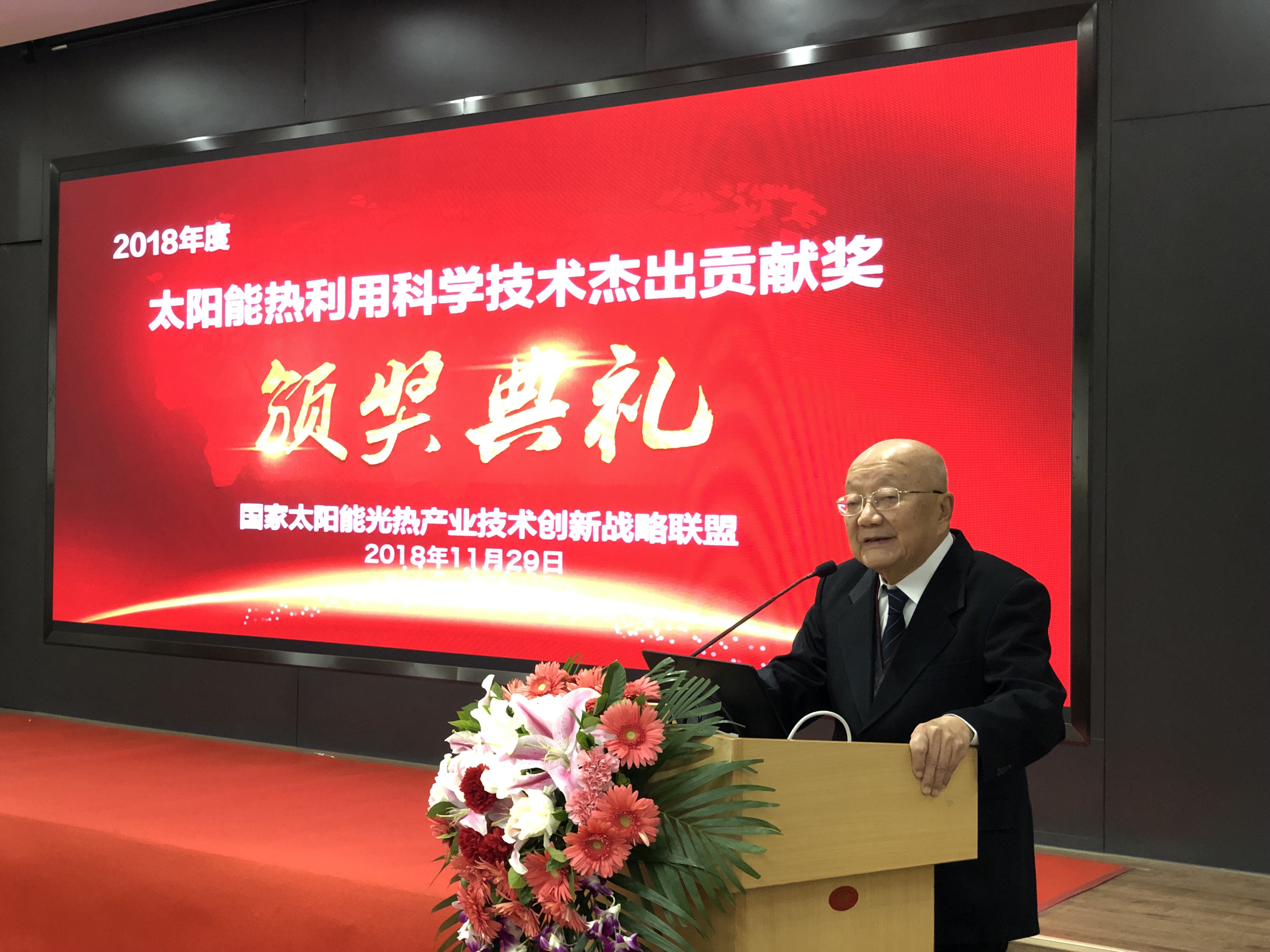 Photo: Prof. Li Shensheng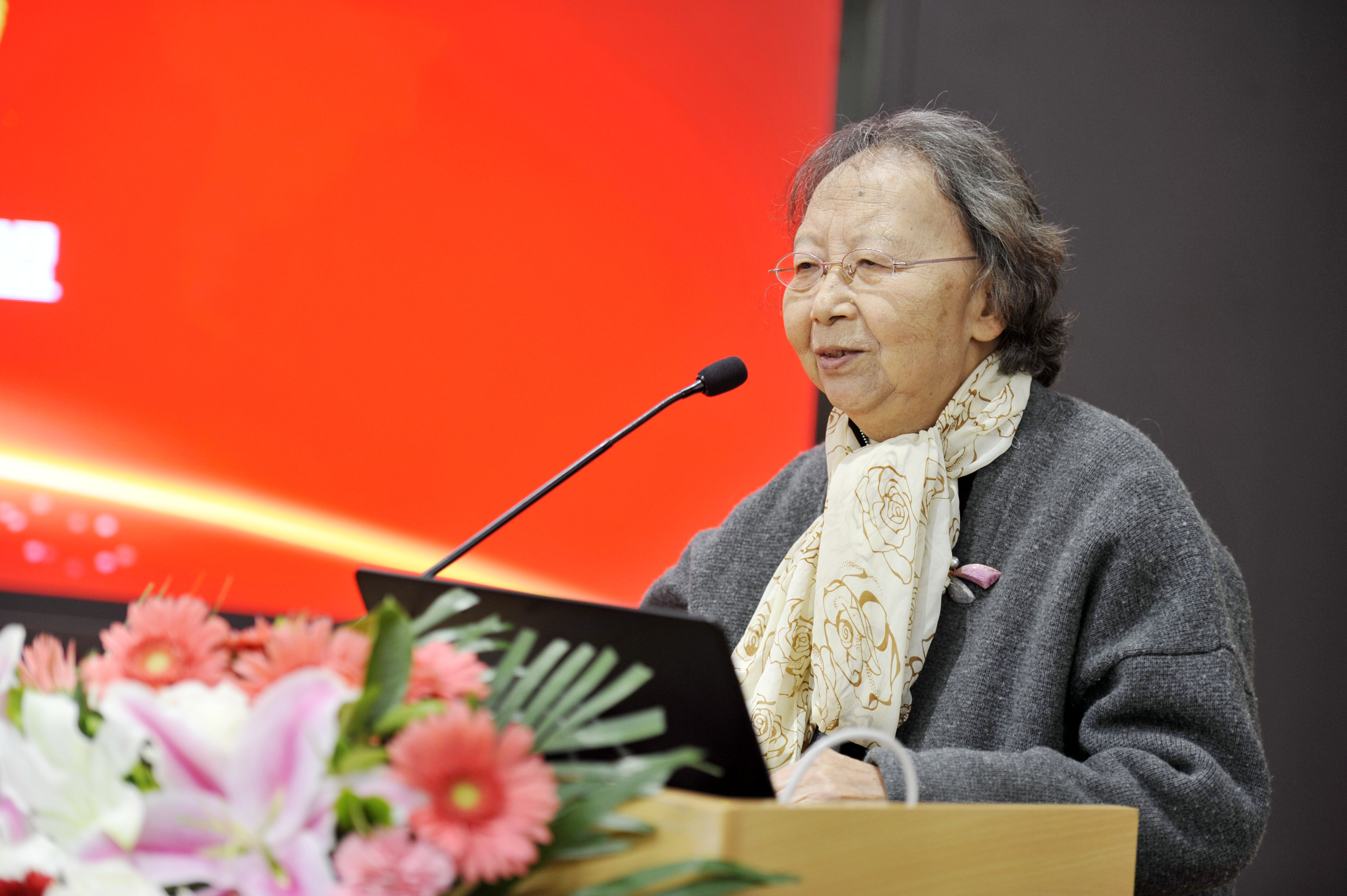 Photo: Prof. Li Yuanzhe
Prof. Wang Zhifeng especially pointed out that, during the "Seventh Five-Year Plan" period, he learned about the accomplishments, innovation and professionalism of Prof. Li Yuanzhe's passive solar building from his father, who also worked on solar thermal building research. He said, during those years, Li Yuanzhe's physical condition was very bad and she had difficulty in walking; in order to make research work move as expected, she only can gather the team members to her house and she often had to sit on bed to preside over meetings and speeches. The "Passive Solar House Thermal Design Handbook" edited by Li Yuanzhe has laid a foundation for the development of solar energy buildings in China. After retiring, she founded SUOLAN Company, which was one of the five largest solar water heater companies in the country. She invented the all-glass heat pipe vacuum tube, which is popular all over the country and is still one of the mainstream products of solar water heaters. Regarding of another winner, Professor Li Shensheng is a physicist. His research achievements in the solar pool have not been surpassed. At present, researchers and professors on solar thermal technology are mostly with engineering backgrounds. There are few people in the physical background, which may lead to the limitation on the principle breakthrough. The industry should attract more physical talents to enter the research level.
The Award for Outstanding Contribution to Solar Thermal Technology is initiated by the Alliance, aims to affirm and express gratitude to individuals that make significant contributions to China's progress in the solar thermal utilization technologies and play an important role in promotion of such technologies, so as to set up the benchmark in the industry, and thus encourage more solar thermal utilizers and enthusiasts to vigorously promote the booming of the industry of solar thermal energy utilization in China in the spirit of selfless scientific and technological innovation, through unremitting pursuit and rigorous exploration.
As the China's first award in solar thermal technology utilization, it is in no need of application by the applicants or recommendation from the organizations. In the process, its candidates shall be nominated by the Secretariat of the Alliance, and the winner shall be selected after two rounds of voting by the Committee of Experts and the joint meeting of Directors of the Alliance. It is awarded once a year, with no more than 2 winners each time, for which annual vacancy is allowed, and the prize is RMB 100,000 yuan/person (before taxes). The candidates must have more than 15 years of experience in the S&T research on solar thermal utilization or in high-tech industrialization. Civil servants (including retirees) are not allowed to participate in the selection.
There're more than 60 people from Peking University, Beijing University of Technology, Beijing University of Chemical Technology, Beijing Institute of Technology, North China Electric Power University, Capital Normal University, Nanjing University of Technology, Inner Mongolia University of Technology, Tsinghua University, Shanghai Jiaotong University, Shanghai Power Equipment Design and Research Institute, Tianjin University, Wuhan University of Technology, Xi'an Jiaotong University, Institute of Electrical Engineering of Chinese Academy of Sciences, Institute of Engineering Thermophysics of Chinese Academy of Sciences, University of Science and Technology of China, Lanzhou Institute of Chemical Physics of Chinese Academy of Sciences, and Beijing TUS-Clean Energy Technology Co., Ltd., Hebei Dao Rong New Energy Technology Co., Ltd., Hangzhou Boiler Group Co., Ltd., China Renewable Energy Engineering Design Institute, Shandong Electric Power Engineering Consulting Institute Co., Ltd., Changchun Zibo Optical Technology Development Co., Ltd., etc. gathered together to witness the great and sacred moment.