Recently, the IEC 62862-4-3 (Solar thermal electric plants - Part 4-3) "Technical Requirements and Design Qualification of Heliostats for Solar Power Tower Plants" jointly led by Cosin Solar and NREL (National Renewable Energy Laboratory) was officially approved to proceed, which is the second IEC international standard to be led by Cosin Solar.
The standard proposal was approved unanimously on 100% of the votes, with experts from Germany, France, Portugal, Spain, and other countries giving active feedback and suggestions. The standard will set the key functions and performance indicators of heliostats to ensure the economics and stability of tower CSP projects and provide testing methods for verifying these indicators. The standard will specify the outlooks, dimensions, structure, normal working conditions, function and performance, electrical safety, environmental adaptability, technical requirements, and test testing of auxiliary systems, as well as packaging, storage, and transportation requirements, providing inspection basis for suppliers, designer, project operators, owner, third-party inspection institutions, etc.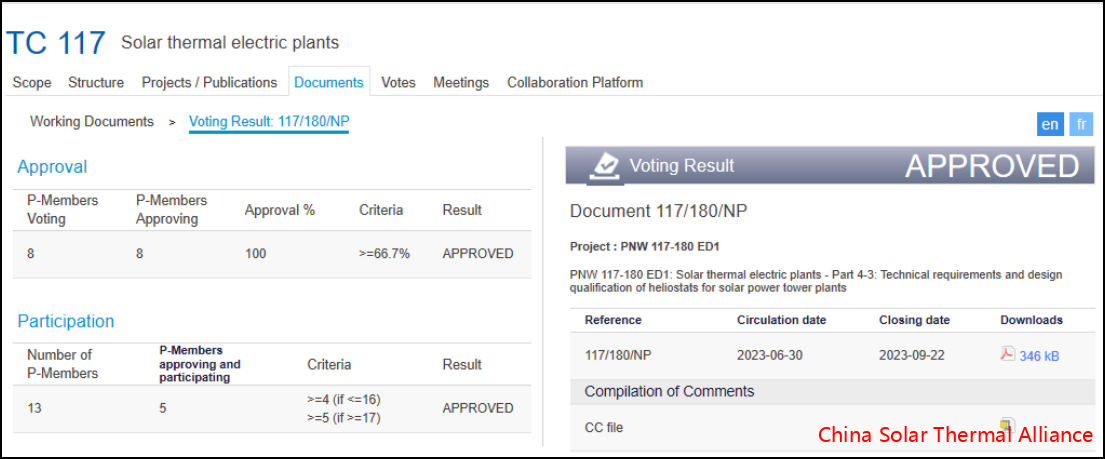 The approval on compilation of the standard will fill the gap in the international heliostat technical standards for Tower CSP projects and promote the standardization of international tower CSP technology. Meanwhile, China can also voice up internationally in tower CSP technology and share its experiences in solar thermal power generation standards, technologies, and projects.
In recent years, Cosin Solar keeps strengthening standardization research and promoting the establishment and improvement of the standardization of the tower CSP industry, by leading compilation of 2 IEC international standards, and participating in the preparation of 5 IEC international standards on tower CSP plant heliostats, heliostat field control system, molten salt and other core technologies.