In order to implement the Outline of China National Standardization Development, continuously improve the construction of emerging industry standards system, make forward-looking plans for future industrial standards research, give full play to the guiding role of standards in the industry, and lead the high-quality development of new industries, the Ministry of Industry and Information Technology, the Ministry of Science and Technology of China, the National Energy Administration and the Standardization Administration of the People's Republic of China compiled the Implementation Plan of the New Industry Standardization Pilot Project(2023-2035) (hereinafter referred to as the»Plan») and released it on August 22.
The plan points out that the construction of emerging industry standards system should be comprehensively promoted. In the new energy section of Box 2, it is emphasized that new energy power standards such as photovoltaic, concentrated solar power and wind power should be developed, grid-connected standards for new energy should be optimized and improved, and key equipment standards such as optical storage and power systems, concentrated solar power systems and wind power equipment should be developed.
Among them,in terms of new energy power, the plan clearly needs to face the development trend of photovoltaic application innovation and integration,and develop standards such as photoelectric building(BIPV), optical storage system, photovoltaic agriculture and photovoltaic transportation. Develop trough, tower and Fresnel power supporting technology,large capacity heat storage technology, high parameter power technology and other solar thermal standards. Develop standards for the development and operation of deep-sea floating wind power, desert, Gobi, and desert areas wind power, distributed wind power and network wind power, as well as standards for wind power hydrogen production and integration of wind-solar. We will carry out pre-research on standards for the use of biomass and geothermal energy for power.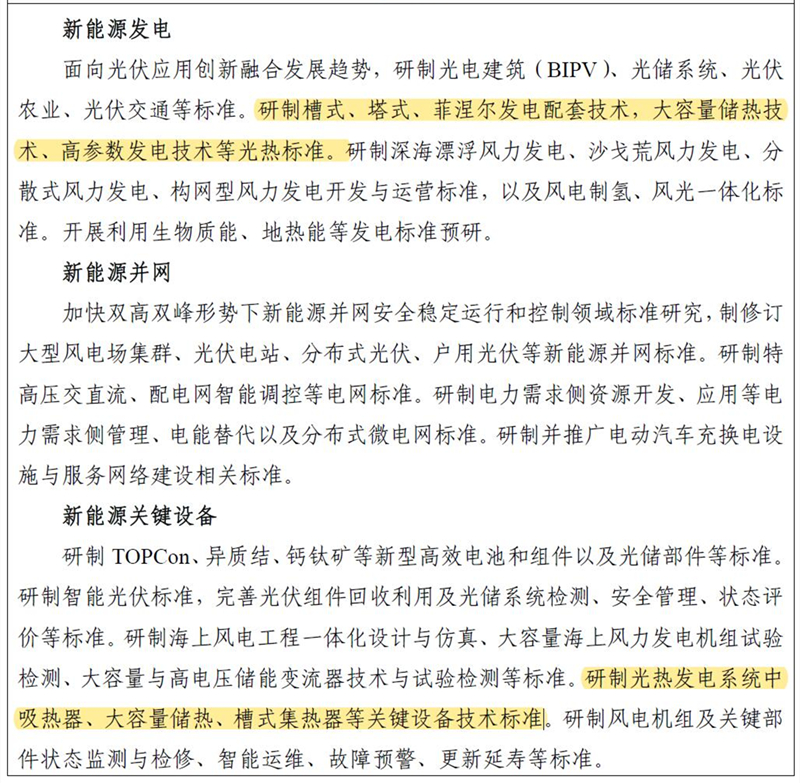 In the new energy key equipment part of the plan, it is mentioned that TOPCon,heterojunction,perovskite and other new high-efficiency cells and components,as well as optical storage components and other standards should be developed. Develop intelligent photovoltaic standards, improve photovoltaic module recycling and optical storage system testing, safety management, state evaluation and other standards; Develop standards for integrated design and simulation of offshore wind power engineering,test and detection of large-capacity offshore wind turbines,technology and test and detection of large-capacity and high-voltage energy storage converters; Develop technical standards for key equipment such as heat absorber, large-capacity heat storage and trough collector in concentrated solar power system; Develop standards for condition monitoring and maintenance of wind turbines and key components, intelligent operation and maintenance, fault warning, renewal and life extension.