On January 7, the hoisting construction of the "five-ring structure", the monogram of the Yanqing Division of the Beijing Winter Olympics, was completed.The "Olympic Rings" made a stunning appearance on top of the solar tower. China Solar Thermal Alliance (CSTA) learned that the monogram building will apply for the permanent reservation of the Olympic Games and become an important historical heritage.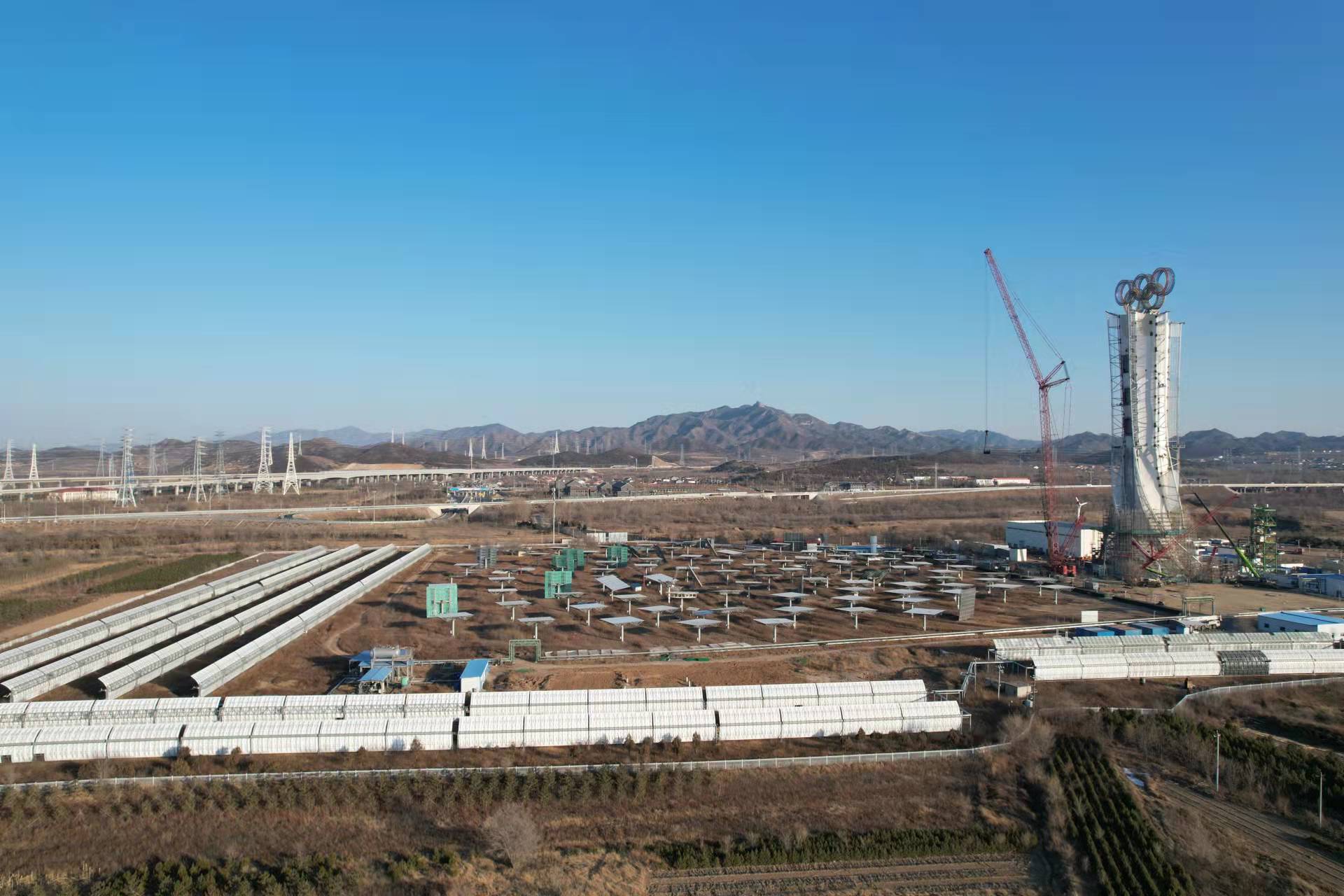 Image: side view of the"Olympic Rings"on the solar tower
The"Olympic Rings" sign tower is located in the Yanqing concentrating solar thermal power (CSP) research base of Institute of Electrical Engineering, Chinese Academy of Sciences (IEECAS). It was renovated on the original solar tower which is the key facility of 1MW solar tower power plant built and operated by the IEECAS.
The tower building is a reinforced concrete structure with a height of 119.45 meters, a roof section diameter of 20.4 meters, and a diameter of 17.1 meters at the thinnest part of the waist. It is currently the largest and highest volume structure in Yanqing district of Beijing.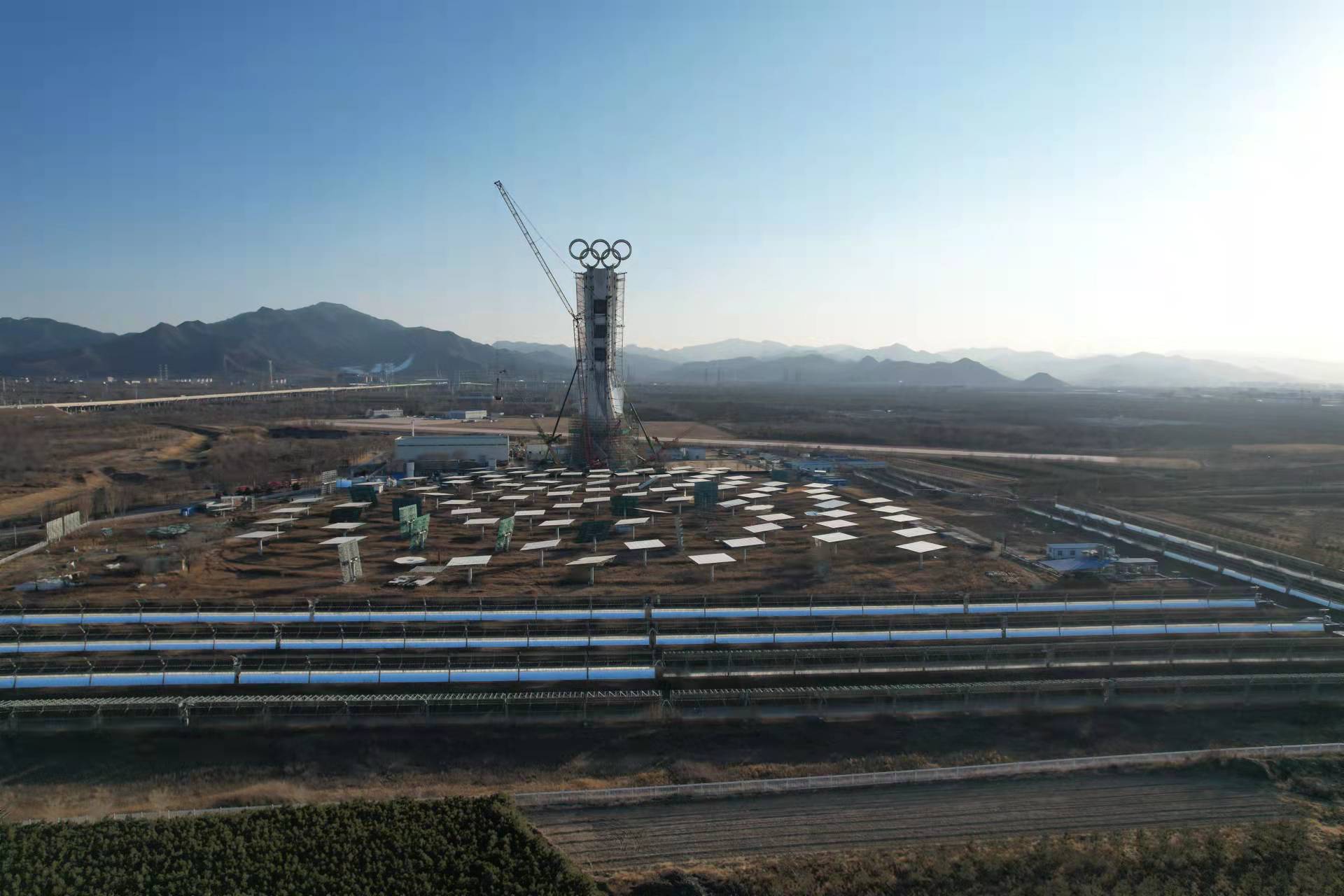 Image: front view of the"Olympic Rings"on the solar tower
The "Olympic Rings" at the top of the tower and the six "ice crystal ribbons" surrounding the tower not only constitute the beautiful scenery along the way, but also become one of the iconic sights of the Beijing Winter Olympics.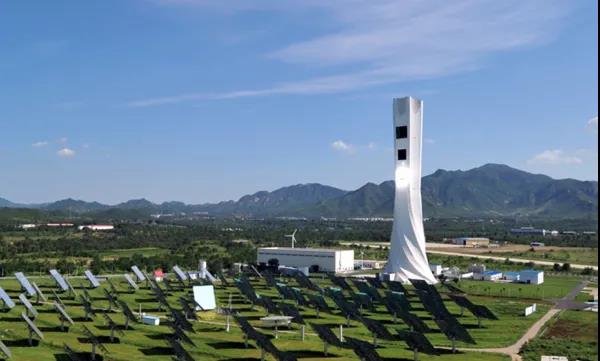 Image: solar tower before the renovation
The CSP base is located near the Badaling Great Wall, mainly include 1MW solar tower system, 1MW parabolic trough system, 1.5MWe steam turbine and a group of solar thermal components testing and experimental platforms. The solar tower demonstration plant is the first MW level CSP plant in China, which generated electricity in August 2021 and connected to the grid in September 17, 2020.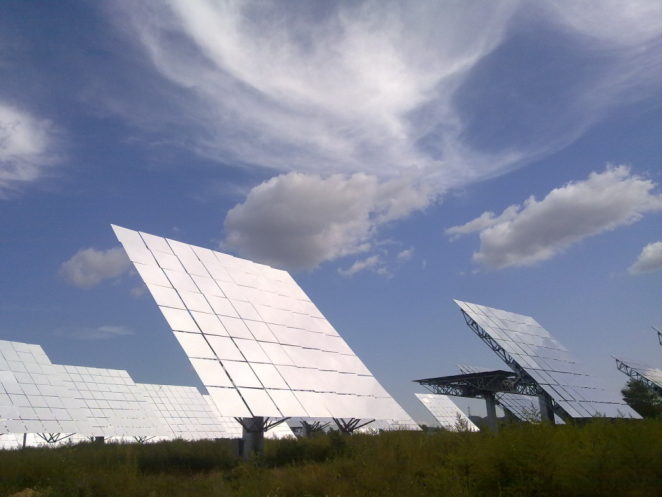 Image:Heliostats
The 1MW parabolic trough system includes three 600-meter-loop with oil as heat transfer fluid (HTF), two of which are arranged in east-west axial direction, and 1 loop is in north-south direction. The entire reflective area has a total area of 10,000 square meters, built together by CGN New Energy, Rayspower and Himin solar. It has 1 hour duration of thermal storage. The parabolic trough system can be connected to generation system of solar tower plant for the joint operation.

Image: solar collector loops
As the first solar thermal power generation test center and the first public technical service platform determined by the China Solar Thermal Alliance, the base is capable of performing various testing, including mirror test, actuation mechanism test, controller test, heliostat test, interception factor test, tube receiver test, solar collector efficiency test, concentrator test, thermal oil storage, molten salt thermal storage, solid particle heat storage, concentrating solar simulator test, etc.

Image: test facilities in Yanqing CSP base of IEECAS